Who We Are
Micah's Closet gives a week's worth of new school clothes,
pajamas, shoes, socks and a jacket to children in need.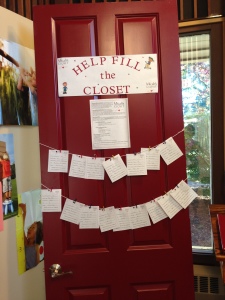 Micah's Closet provides up to a week's worth of new school clothes to children in need, through a partnership with schools, churches, community groups, businesses, and individuals. Studies show that children in need are more likely to have higher self-confidence and maintain regular school attendance if their clothes are as nice as clothing worn by their peers.
How does Micah's Closet do it?
Micah's Closet works closely with school staff and social workers to provide new clothing for children in need. The school staff, or social worker, selects the children who need new clothes and supplies the clothing sizes to Micah's Closet. Micah's Closet volunteers purchase the clothing, package it in a separate gift bag for each child, and deliver the bags to the school, or to the social worker. School staff members, or social workers, then distribute the gifts of clothing to the selected children.
Micah's Closet Latest News
This year, Micah's Closet will be one of the beneficiaries [...]